Pokemon Sun and Moon: new Pokemon, Eevee and Pikachu Z-moves, more news for your special eyes
Another deluge of Pokemon Sun and Moon news has been announced, so slip on your floaties and dive in below.
Along with new Pokemon, differences between the Sun and Moon versions of the puppy Pokemon Rockruff, and some new gameplay features for Pikachu and Eevee, more information on the Pokemon Bank and Poke Transporter were provided.
Let's get kick things off with the newly revealed Pokemon.
Passimian – Fighting
The Teamwork Pokemon Passimian attack by throwing Berries at their foes. They tend to live in troops of 20–30 Passimian, who all follow one leader. These tribes work in teams to train and improve their skills. This Pokemon has the Ability Receiver, an Ability which no previous Pokemon has had. With the Receiver Ability, Passimian can inherit the Ability of an ally who faints in battle. Passimian only appear in Pokemon Sun.
Oranguru – Normal/Psychic
The Sage Pokemon Oranguru live in the solitary deeps of the Alolan forests and, in fact, were once known as 'the people of the forests'. Oranguru hold a fan-like object made of leaves and are known to be kind to other Pokemon in the forest, often giving injured Pokemon medicine or hungry Pokemon food. This Pokemon can exclusively learn the new move Instruct, a move which can make the selected target use its most recent move again immediately. Oranguru only appear in Pokemon Moon.
Rockruff can evolve into a different form depending on whether you are playing Sun or Moon. During midday in Pokemon Sun, the creature can turn into Lycanroc, and in Pokemon Moon, Rockruff's form at night is Lycanroc.
Lycanroc (Midday Form) – Rock
In the world of Pokemon Sun, Rockruff is bathed in profuse amounts of solar energy, and Solgaleo's influence causes this Pokemon to evolve into Lycanroc's Midday Form. This form is known for speedy movement which can confound its opponents. A very loyal Pokemon, Lycanroc Midday Form dodges opponents' strikes whilst attacking with the sharp rocks of its mane. Lycanroc Midday Form can learn Accelerock, a new move unique to the Pokemon, which is guaranteed to strike first, damaging opponents by slamming into them very quickly.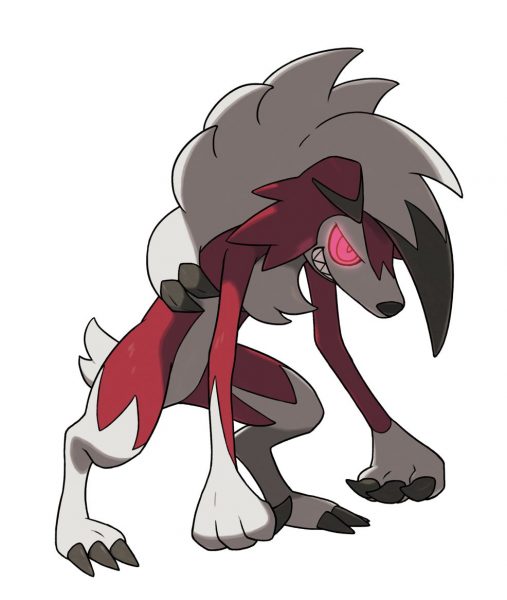 Lycanroc (Midnight Form) – Rock
In the world of Pokemon Moon, Rockruff is bathed in an abundance of lunar energy, and Lunala's influence causes this Pokemon to evolve into Lycanroc's Midnight Form. This Pokemon will sacrifice its own safety to strike down its foes. The stronger an opponent is, the more excited Lycanroc Midnight Form becomes, its eyes glowing with the thrill of battle. This Pokemon feels a deep trust towards a Trainer who can draw forth its true power.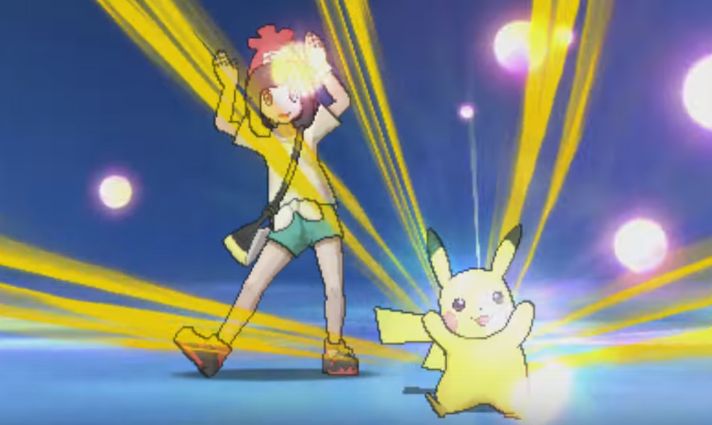 The two Pokemon-specific Z-moves announced for cuties Pikachu and Eevee didn't come with screenshots, so please don't judge our horrible screencaps below too harshly.
Pikachu – Exclusive Z-Move name: Catastropika: Pikachu's exclusive Z-Move, Catastropika, is a super-powered attack move where Pikachu borrows its Trainer's strength, wraps itself in extra-high-voltage electric power, and charges into its opponents. This is Pikachu's most powerful attack.
Eevee – Exclusive Z-Move name: Extreme Evoboost: Eevee's exclusive Z-Move, Extreme Evoboost, gathers together all of the eight Pokemon that Eevee can evolve into – and grants their powers to Eevee. This highly powerful move raises Eevee's Attack, Defense, Sp. Atk, Sp. Def and Speed by 2.
Character Customization, Pokemon Refresh, Pokemon Bank, Poke Transporter
The Character Customization feature shown in a Pokemon commercial back in May has also been detailed a bit. The feature is making its return and allows players to change their Trainer's clothing, hairstyle and eye color and clothing can even be dyed.
A Pokemon Refresh feature detailed by the company today will allow players to care for their Pokemon after a battle. It allows the player to clean them up a bit, feed them Poke Beans and even cure status conditions like poisoning and paralysis.
Pokemon looked after in Pokemon Refresh can grow very affectionate and "will battle to the utmost" for the player. This means that sometimes they may avoid attacks from opposing Pokemon or even hold out when they're on the verge of fainting.
Here's everything you need to know about Pokemon Sun and Moon in one lovely, comprehensive guide.
There was a bit of bad news in the PR sent over today though, and it has to do with the Poke Bank. It has been delayed into January 2017. The Pokemon Company said this is due to an update which is being applied during that month in order to provide better support for Sun and Moon.
In case you are new to the series, the Pokedex feature reads saved data from any compatible titles you connect to Pokemon Bank and collects information about all the Pokemon you have caught. You can then view the information in the Pokemon Bank and even see the Pokemon that don't natively appear in the Alola region.
Finally, the Poke Transporter will also be updated to make the Virtual Console versions of Pokemon Red, Pokemon Blue and Pokemon Yellow compatible with Pokemon Bank. This means that Pokemon that players have caught in the VC-original Kanto games will be able to be transferred across into Pokemon Sun and Pokemon Moon.
Pokemon Sun and Moon will be released for 3DS in North America on November 18 and in Europe on November 23.