This week's best game deals: Madden 17, XCOM, The Last of Us and more
Join us as we take a look at the best of this week's deals.
While the weather outside may be getting just that little bit too hot for most people's tastes, the one thing we can't forget about this past week is that video games are back. We've made it all the way over the mountain that was No Man's Sky, finally gotten our hands on Deus Ex: Mankind Divided and are looking ahead to all the awesome stuff that awaits us in the rest of the year. Oh, and Madden is out, I guess. That's a thing.
As we say every week, Jelly Deals is constantly scouring the internet for deals and good prices, like one of those Mad Max type scavenger types from the Fallout games. Every week, I'll visit to bring them directly to you and see if you fancy any of them. If you do, great! If not, no problem. As always, we do our best to make sure that these deals are all active and in stock when we post, but internet deals are fickle and have a bad habit of disappearing without warning. Essentially, the quicker you click, the better.
Anyway, let's get on with this thing. Here are some of this week's best deals, starting with the US Deals and heading over to the UK lower down the page.
US Deals
The new release this week that had the least cybernetic augmentations (although I'd hesitate to say it has none) was Madden 17. From most reports, this year's installment of EA's gridiron football sports game is a surprisingly enjoyable entry into the franchise. Even better is that right now, you can pick up a PS4 copy of the (normally $60) game for $47.99 over on eBay. Sadly, no such deal for Xbox One owners on this one.
Madden 17 on PS4 for $47.99 from eBay
id Software's 2016 update of their legendary DOOM franchise is definitely one to check out. That just got a little bit easier to do if you're a console owner since GameStop US started offering Xbox One and PS4 copies for just $19.99 for a limited time. No word on how long this offer is around for, or how much stock is available, but you can 'Click and Collect' the game via their website to reserve a copy.
DOOM on PS4 for $19.99 from GameStop US
DOOM on Xbox One for $19.99 from GameStop US
Look, if you own a PS4 and don't have a copy of The Last of Us Remastered, where have you been? This game is so much of a must-have for PlayStation owners that I'm surprised it isn't just being handed out with each and every PS4 sold. Until the day that eventually happens, here's the next best thing – Walmart is selling copies for $12.95 right now.
The Last of Us Remastered for $12.95 from Walmart
If you've been on YouTube anytime since being alive, you've probably seen one of these microphones. They're the Yeti USB mics from Blue and they've become a gold standard for YouTubers and streamers in recent years. For a reason – they're good, very good in fact. Currently, Dell is offering up the best offer we've seen for one of these – price reduced down to $109.99 with a $40 Dell eGift voucher added in for good measure.
Blue Yeti (Blackout) for $109.99 with $40 eGift voucher from Dell
Logitech are no strangers to making PC peripherals, they've been making high-end PC gear for a while now. The trouble with high-end PC gear is that it usually carries a high-end price tag as well. Not so, at least right now, for this G430 7.1 headset, which is half price right now over on eBay, making the total cost $39.99 for the time being.
Logitech G430 7.1 Gaming Headset for $39.99 from eBay
---
UK Deals
While we're talking about games to look forward to this year, Mafia 3 is one of the bigger titles headed our way in October. It's a game that's on the minds of more than a few people, for a variety of reasons. While we will have to wait until closer to launch before we can tell how the game plays, if you're someone who is absolutely set on picking this one up, you should be aware that you can pre-order a Steam version of the game from GamesPlanet right now for £27.99. That's the cheapest way to pick the game up that we've seen so far and keys will be sent out shortly before launch. Obviously, you can also opt to wait and see, instead.
Mafia 3 on PC (Steam) for £27.99 from GamesPlanet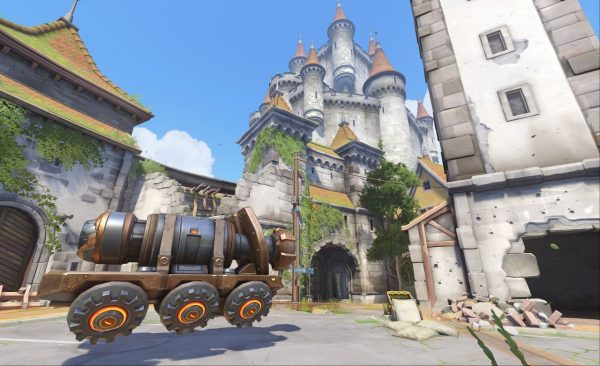 Overwatch was released back in May and is still one of the most played games of the year so far. Due to that, it's also rarely, if ever, seen a price cut or discount since launch. Fortunately, that's changed over at Amazon, albeit not by THAT much. You can pick up an Xbox One or PS4 copy of Overwatch for £32 right now, which is the cheapest it's ever been so far. That's also the Origins Edition of the game, so you'll get your Noire Widowmaker skin as a nice bonus.
Overwatch on PS4 for £32 from Amazon UK
Overwatch on Xbox One for £32 from Amazon UK
The folks over at Base.com are offering a few of Nintendo's best Wii U titles (and part of Nintendo's own 'Selects' range) for the extra low price of £16.85. Sure, the Nintendo Selects range are designed to be sold at a cheaper price, but it's always nice to save an extra few pound along the way.
Super Mario 3D World for £16.85 from Base.com
Captain Toad: Treasure Tracker for £16.85 from Base.com
Pikmin 3 for £16.85 from Base.com
XCOM Enemy Unknown has been out for a few years now but still, stands tall as one of the best turn-based strategy games of the past decade or so. Some would even say that this game is greater than XCOM 2, in terms of replayability. If you haven't yet added a PC copy of this to your collection, now's your chance, since GamesPlanet is selling 'The Complete Edition' of the game for £5.99 right now, which is around £19 cheaper than buying it from Steam right now/
XCOM: Enemy Unknown – The Complete Edition for £5.99 from GamesPlanet
Sony is currently hosting a sale on 'Retro' games on the PlayStation Store, featuring some of the PlayStation's most loved classics for a few pounds each. This 'Retro' sale, which successfully making me feel incredibly old, also means you can get a bunch of the old Metal Gear Solid games for under £4 each. That is, as long as you have a PS Vita or PS3 to play them on, since these are the polished up HD versions of these games and for some baffling reason, you still can't play any of these on a PS4. Fingers crossed for that one.
Metal Gear Solid for PS3, PS Vita or PSP for £3.29 from PlayStation Store
Metal Gear Solid 2: Sons of Liberty for PS Vita for £3.99 from PlayStation Store
Metal Gear Solid 2: Sons of Liberty for PS3 for £3.99 from PlayStation Store
Metal Gear Solid 3: Snake Eater for PS Vita for £3.99 from PlayStation Store
Metal Gear Solid 3: Snake Eater for PS3 for £3.99 from PlayStation Store
Metal Gear Solid: Peace Walker for PS Vita and PSP for £3.29 from PlayStation Store
Metal Gear Solid: Peace walker for PS3 for £3.99 from PlayStation Store
It's worth noting that, for some reason, they are selling the Metal Gear Solid HD Collection (which contains MGS2 and MGS3) for £9.49, making it more expensive than buying the two separately. So don't buy that one.
You can check out the rest of the PlayStation 'Retro' sale over here.
PlayStation Store 'Retro' Sale
Now here's a weird one. This little SNES replica is actually a fully working Bluetooth controller, able to be used on PC, Mac, iOS, and Android. This makes this little guy ideal for playing games on a phone or tablet, sure, but really comes into its own when connected to a computer. While we're obviously not saying you could use this controller with a SNES emulator and have yourself a fantastic time, but…you totally could.
8BitDo SFC30 (JPN/EU Colours) for £25.49 from Amazon UK
8BitDo SFC30 (US Colours) for £25.49 from Amazon UK
---
That's it, all done for one more week. As usual, please keep in mind that deals, prices, and availability can change at any time, so sorry if that happens on any of the above. I'll be over at Jelly Deals, scouring the information super-highway for more deals, but feel free to drop us a like on Facebook or follow us on Twitter.