This week's best games deals: PC downloads, GeForce 1070 and cheap Disney Infinity figures
Want to buy stuff and save money? We've got you.
We're back for another week's worth of deals and offers from the world of gaming and technology. As always, we've been scouring the internet in order to find cut prices, special offers and limited time deals to bring to you, right here. If you like, you can take a look, give something a click and hopefully save a couple of pennies.
Onto this week's deals. Keep in mind, though, that deals like these have a nasty habit of changing, expiring or selling out without notice. We do our best to make sure these deals are active when the article goes up, but depending on when you get around to clicking the link, there's a chance the deal could be gone. As usual, we'll be looking at what the Stateside deals are like before heading over to the UK. If you're reading this from the UK, feel free to skip ahead.
US Deals
We're travelling across the sea now, to take a look at the best US deals from this week, which begin with Final Fantasy X & X-2. The HD Remaster of this pair of JRPGs is currently available at an all time low of $14.88, over at Walmart.
Final Fantasy X & X-2 HD Remaster on PS4 for $14.88 at Walmart
It may have taken just a little bit too long, but GameStop have finally discounted their stock of the Gentleman Claptrap-in-a-Box Edition of Borderlands: The Handsome Collection. This thing was originally $400 (!!) and has been cut in half down to $199.99 right now. This is most likely an attempt to clear through the remaining stock, and it's not exactly cheap, but if you were tempted at the previous high price point, it could be time to put some cash down on a remote control Claptrap.
Gentleman Claptrap-in-a-Box Borderlands The Handsome Collection on PS4 & Xbox One for $199.99 at GameStop US
With GeForce's brand new graphics cards hitting the market, it seems like a pretty good time to upgrade your rig or build an entirely new PC. The GeForce GTX 1070 is currently available over at NewEgg for $409.99 and you can get an extra $25 off that price by entering the code 'PP2016BTS' at checkout and paying via PayPal. That brings the overall cost down to $385, which is all the more affordable.
GeForce GTX 1070 for $384.99 using code PP2016BTS at NewEgg
With the news of the cancellation of future Disney Infinity games and support, it was only a matter of time before the prices started to fall on the figures themselves. Luckily, these things are almost as desirable as just little figures of some of your favorite characters and Best Buy appear to be clearing through some of their old stock for cheap. They have a range of Disney Infinity characters available on their site with prices starting at $1.99 (at the time of writing). Expect stock of these to disappear quick, though, so availability and prices may change.
Disney Infinity Characters From $1.99 at Best Buy
UK Deals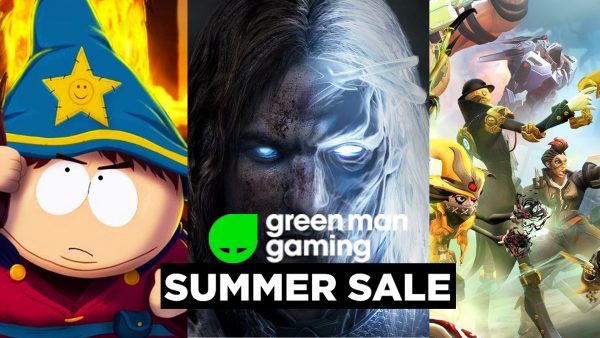 If you (somehow) weren't already aware, GreenManGaming is having a Summer Sale right now, which means some big discounts on PC download titles. GMG are rolling this sale out by themed 48-hour slots. Their first 48 hours featured sci-fi themed games, while the current (and second) slot focuses on fantasy games. Here are some highlights –
These are set to change by the end of Friday 22nd July, though, so by the time you're reading this, the site may have moved onto it's third theme – 'Fun With Friends'. This one focuses on multiplayer games and is set to include the below titles.
If you stick around, Monday will see their sale change over to the theme of "Kick Ass", so feel free to guess at what games that will include. Worth noting, that these deals will work in the US as well, but the prices are obviously different when not using British pounds. Don't forget to click these links and see for yourself though.
GreenManGaming Summer Sale – Fun With Friends (July 22nd – July 24th)
Mirror's Edge Catalyst may have arrived to a fairly mixed reception when it released just last month, but for all its potential faults, there are plenty of people out there who have been waiting on a price drop before giving it a try. Well, guess what – just over a month on, we've seen the first big price drop for this one, which is available now for £23.99 as a PC download, or £29.97 on consoles.
Mirror's Edge Catalyst on PC (download) for £23.99 at CDKeys
Mirror's Edge Catalyst on Xbox One for £29.97 at GameStop UK
Mirror's Edge Catalyst on PS4 for £29.97 at GameStop UK
Last year gave us Mortal Kombat X, technically the tenth in the Mortal Kombat series of games (give or take a few spin-offs) and the most recent arrival from NetherRealm studios, who then continued to add more characters and costumes as downloadable content. Mortal Kombat XL, besides having the most perfect name possible, is the original MKX game packed full of all the downloadable content possible. ShopTo currently have this priced up at £19.85 on PS4, which is an absolute steal.
Mortal Kombat XL on PS4 for £19.85 at ShopTo
For some reason, their Xbox One copy is still a good £10 more expensive though. We had a look and found the cheapest Xbox One edition we could, over at Amazon for £24.70.
Mortal Kombat XL on Xbox One for £24.70 at Amazon UK
Mafia III may not arrive on shelves (both physical and digital) until October, but you can already pre-order the game on PC for what seems to be an absolute bargain. While the game is currently listed at £34.99 on Steam itself, heading over to CDKeys will get you a digital pre-order of the game for just £23.99. You would be forgiven for not wanting to pull the trigger on this deal without waiting to see more of the game towards launch, but hey, right now it's pretty cheap.
Mafia III on PC (download) for £23.99 at CDKeys
If you're one of the very few Xbox One owners who doesn't actually already own a copy of Halo: Master Chief Collection, you're running out of excuses as to why not. Right now, you can pick up a code for a digital edition of the game for £5.49. That's just over £1 per game included in the package, by the way. Just saying.
Halo: Master Chief Collection for £5.49 at CDKeys
If you're in the market for a 4K TV, you may want to check out this Bush 50 inch 4K LED TV at Argos. It's currently running at £70 off, down to £329.99 from its original £399.99. This thing might not have a lot of bells and whistles, but if you're looking for a 4K TV on the cheaper side, it's worth a look. As always though, you'd be best to check reviews online before you buy.
Bush 50 inch 4K TV for £329.99 at Argos
---
That's all she wrote for another week of deals. Keep in mind that deals, prices and stock can change at any time, but we'll do our best to make sure we bring you them fresh and when they are active and available. As always, we'll be keeping our eyes peeled for more low prices, deals and offers over at Jelly Deals, or you can follow us over at Twitter or Facebook. See you next week!