Walmart Black Friday 2015 deals are all about the games
The Black Friday 2015 ad for Wally-World leaked over night and it's one of the larger circulars yet, with games the main deal for the season.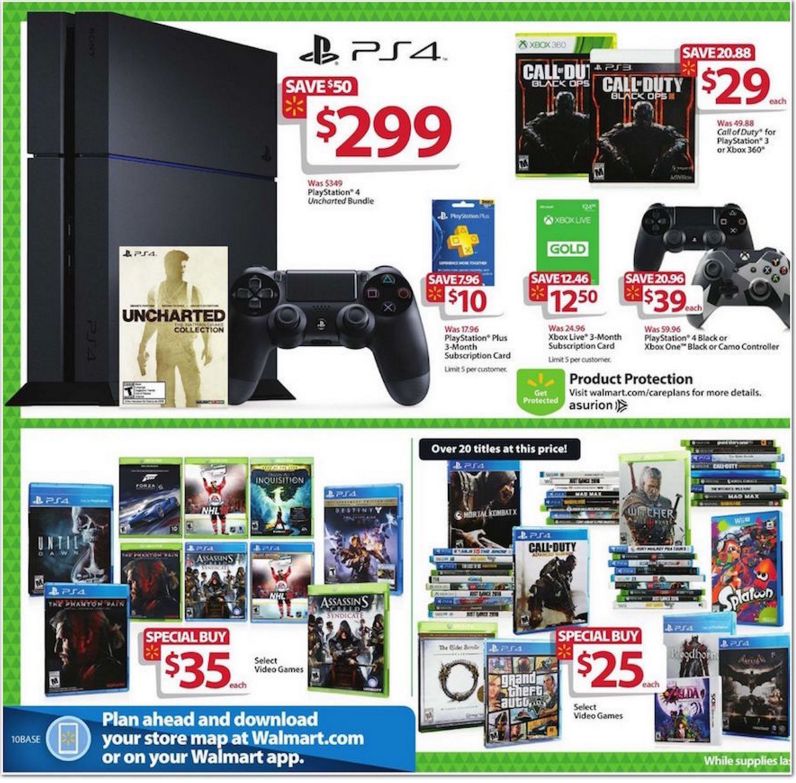 Granted, after the leak Walmart made the ad available as a download through its app.
The gaming deals are listed on pages 10 and 11 and while there isn't an Xbox One bundle listed that no other retailer has, but that doesn't mean there won't be one on offer in the store or online come the fateful day.
You can get a $30 gift card though if you buy the 500GB Xbox One console bundle with Gears of War Ultimate Edition. But Target has the better deal on that bundle as it comes with a $60 gift card.
The mailer does list the PlayStation 4 500GB bundle featuring Uncharted: The Nathan Drake Collection for $299. That seems to be standard with all retailers at this point.
Three month PS Plus and XBL Gold cards are on sale for $7.96 and $12.46, respectively. But if you are in the market for a new game such as Fallout 4 or Rise of the Tomb Raider, your best deal would be through Best Buy as the same three-month cards can be purchased for $4.99 each when you buy a select new release.
PlayStation 4 and Xbox Box titles such as Until Dawn, Metal Gear Solid 5: The Phantom Pain, Assassin's Creed: Syndicate and Destiny: The Taken King are on sale for $35 each.
You can also grab The Witcher 3, GTA 5, The Elder Scrolls Online: Tamriel Unlimited, Batman: Arkham Knight, Splatoon and others for $25 for either PS4 or Xbox One.
Walmart also has over 20 titles on sale for $8 each such as Titanfall, Assassin's Creed: Unity, and for $15 Dying Light, Battlefield Hardline, and Gears of War Ultimate Edition.
Skylanders, Disney Infinity, and LEGO Dimensions pack pricing is on par with other retailers.
On Thursday starting at 6pm local time, Nintendo hardware deals will go live until supplies last. Super Mario 3D Land New 3DS XL Bundles will run you $129 for the red or blue version.
The 30th Anniversary Mario amiibo can be purchased for $12.96, and the Deluxe Wii U Super Smash Bros. and Splatoon bundle will run $249.
Walmart also has plenty of tech deals which will be available, so if you are in the market for peripherals or headsets or other gadgets you can look over the entire circular through Best Black Friday. There is also a super nice deal on a 70″ VIZIO LED HDTV for $898.
As usual, for all the best deals on PlayStation 4 check out our Black Friday hub. Xbox One users also have a seperate Black Friday hub. It makes it easier for you.