GTA 5: 15 new features you missed in the Ill-Gotten Gains DLC
15 new features you missed from the Ill-Gotten Gains DLC
Oh sure, yesterday's GTA 5 Ill-Gotten Gains update brought with it expensive vehicles, nasty-looking paint jobs, and cool-as-fuck engraved guns.
But beyond the headline swag it also delivered a whole range of features, improvements and bug fixes that should make daily GTA Online sessions a lot more playable.
We've trawled through the 2.2 GB update so you don't have to, pulling out the most useful, game-fixing, cool-looking and surprising features that make hanging out in Los Santos that much better today.
The Combat MG has more stopping power
Both the MG and the Combat MG have had damage upgraded. The Heavy is a favourite because it sounds like it's thundering bullets out the barrel. Now it has the stopping power to match.
To counter that, the Combat Shotgun has been nerfed a little. It's no longer as effective at long range but that's no biggie, it's much better suited to close combat.
You can cycle between targets using missiles
Fighting against multiple targets in any vehicle that uses lock-on missiles just got a little bit easier. It's always been a fiddly process, but you can now cycle between targets when you're in the Buzzard attack chopper or Lazer jet thanks to the latest upgrade.
The Daily Objective Stunt Jump is fixed
My goodness, how many times have we come a cropper with this bug? Basically, if you've already performed every Stunt Jump in the game, doing one as part of your Daily Objectives wouldn't register. This would break anyone's run of earning a bonus for consecutive weekly and monthly dailies.
Now that's been fixed you can find your favourite Stunt Jump, hit the ramp and fly through the air knowing that your best Lee Majors impression is going towards that daily $25,000 reward.
Live life like Kanye West
You'll be aware of this flamboyant disregard for airline regulations if you're so flush with cash you shelled out between $5 million and $10 million for a gold-plated aircraft. This is essentially why players are calling Ill-Gotten Gains the "Kanye West update".
You can smoke and drink on the Luxor Deluxe jet and smoke and browse the internet on the Swift Deluxe helicopter in first-person. Why? Because you have so much money to waste you can do whatever the hell you want.
Thanks for the image, NakanoRengou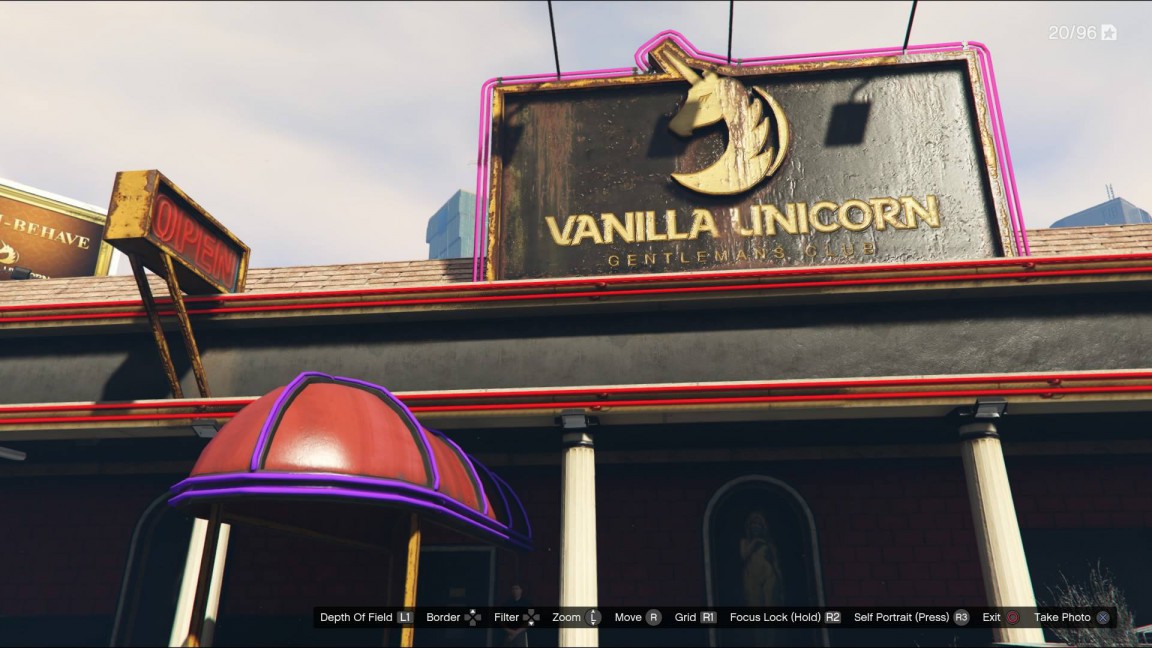 There's more strippers in the Vanilla Unicorn
Look, there's no shame in it. You can do whatever you want in life and I will not judge you. Whether out of curiosity or the need to get hands on, we've all wandered into the Vanilla Unicorn for a look.
Now you'll see a lot more. More dancers have been added to Vanilla Unicorn in GTA Online, and if you want to go for a private dance the girls will take their tops off on Xbox One and PS4. The real next-gen.
Fuck Luck: there's 15 new tattoos
If I'd gotten a tattoo as a teenager I would have ended up with something really nasty that filled me with regret years later. But in GTA Online you can go down to The Pit and you'll find 15 new tattoos to replace that awful tribal design you got last year. Who doesn't want "Fuck Luck" tattooed on their hand? It'll look great for that upcoming job interview. Or just get a massive wolf on your back for $25,000.
I can continue to dress like my dad
Go into Ponsonby's and you'll find a whole new wardrobe full of expensive outfits. The Pimp is self-explanatory, The Sessanta Nova makes you look like a white-coat-with-fur-trim record-promoting douchebag, and The Grand costs a whopping $114,768.
I went for the outfit above, with I've rechristened the Glynn Martin Esquire. Long winter coat, black gloves, heavy boots. Okay, my old man wouldn't have his ear pierced ("Son, you're not welcome in this house if I see diamante in your face"). But apart from that this makes me miss and assimilate the leader of the Martin clan, who raised and nurtured three sons with essential life skills; DIY with your shirt off, the art of the fry-up and drinking to excess while remaining standing.
Vehicle websites have been redesigned
Okay, it's only a small cosmetic thing, but considering we do websites at VG247 the redesigns of Legendary Motorsport, Dock Tease and Elitas Travel are welcome.
They're nicer to browse and it's always fun to freshen things up. Let's hope the people who work on those sites don't ignore the comments, roll-out clickbait headlines and take bribes to cover the most popular vehicles. Come to think of it, they should add a few Destiny articles to their homepages…
On Call sessions now invite Friends
This is really welcome. When you pull up a Quick Job on the phone you now have the option to Invite Friends in Session.
This allows you to play with any friends you have with you in your current session, placing them On Call too. Something that makes launching modes and games more smoothly? We're all about it.
Airstrikes are clearly marked
Looking to call in an airstrike on some griefing chump? Now you'll be able to see a range indicator on screen so you know how far away your support is. And when it's about to drop, the indicator turns red. BOOOOOM.
More options to look good
Not wearing the right mask for a little stick-up job? Need to quickly blend in with frat boys by equipping the Patriot Beer Hat? Now you can swap more accessories in-game with ease.
Just bring up the Interaction Menu, go to Accessories and you'll be able to change hats, masks, helmets, watches, glasses, chains and saved outfits without having to go back to your apartment or the nearest store.
All those weird falling through things bugs have been fixed
We'll leave this to Rockstar's notes: "Fixed several issues where players were seen falling through the apartment when accepting an invite to a Heist. Fixed an issue where players see themselves falling through the Velum just before the Prison Break Finale. Fixed an issue where a player could see another player's body dropping from the table into the drinking position during the final cutscene of the Heist. Fixed an issue where players could fall through the world at the army base after committing suicide on a Job."
(I couldn't find an appropriate image for this so here's a pic of my alt).
Vehicles are back if you migrated from last to new gen
Some players who upgraded from Xbox 360 and PS3 to Xbox One and PS4 lost the vehicles they'd purchased and stored in their garage.
I can't check this one personally, but if that was causing you to grind your teeth it's now apparently been fixed. Whether that reinstates the lost vehicles or just means it won't happen to future migrating players we're not sure so let us know if you have experience of it.
Depth of field is back for Snapmatic
This will please all the GTA photographers out there (and there are a lot of them). Depth of field buttons haven't worked in GTA Online for some time but now it's back. As essential as composition, the rule of thirds and taking a selfie at sundown.
The Kuruma is even more bulletproof
The thing with the Kuruma is it's over-powered. It's too easy to complete a lot of missions by sitting in the car shooting through the windows knowing that you're safe inside a bulletproof car. It's taken a lot of fun out of the game.
Now a bug has been fixed that made the the side doors vulnerable to sniper rifle fire. We're not sure how we feel about that. There needs to be some vulnerability to it, aside from rocket and explosives, doesn't there?